TensorGrip L12 - The Ultimate Web Spray Contact Adhesive
TensorGrip® L12 is a fast drying contact adhesive with good heat resistance. It is suitable for bonding a variety of materials to sheet timber, metal and some hard plastics. Immediate permanent bonds can be achieved by double-sided applications on most substrates. Its tacky pressure-sensitive properties make it ideal for thick substrate bonding and wood panel buildups.
ALWAYS test TensorGrip L12 to determine suitability for your particular application prior to use in production.
NOT RECOMMENDED for use with plasticized vinyl's, flexible plastics, expanded/extruded polystyrene, PE or PP.
Speed
This highly engineered adhesive has proven to dramatically reduce production time. It removes the need for reliance on mechanical fastenings and wet glues in the application of curved structure building. L12 removes the need to use these traditional methods of bonding MDF and Flexi-ply onto curved structures, which can take up to 48hrs to cure.
Power
With its incredible high-tack adhesive performance, L12 has unrivaled bonding power and reduces the need for mechanical fixings when building curved structures, counters, creating thicker worktops or backing up Corian or solid surface. The power of L12 provides immediate results on the most demanding applications.
Value
CO-REZ™ technology is an exceptional formulation development incorporating a highly engineered resin and gas matrix, creating a unique "more glue, less gas" formula. The result is an unparalleled increase of up to 25% extra coverage per unit, together with a 2-3 kilogram decrease in weight per canister system, making this technology a market leader. CO-REZ™ technology will revolutionize adhesive performance and user experience.
Advantages:
High build web spray
Excellent for rigid substrates
Instant aggressive bond – adheres to many surfaces
Fast dry with excellent initial bond
High-strength, permanent bond
Good heat resistance (up to 200°F/90°C)
Sizes Available: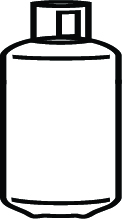 ---
Developed For:
Flexi-Ply
Wood Buildups
Properties:
CO-REZ Technology
Web Spray
Back