TensorGrip - P302 - Non-Flam High Temp Contact Adhesive
TensorGrip P302 is alone in its class. Leading Zero-Flam Technology has allowed Tensor to develop a completely nonflammable adhesive with the best bonding properties on the market.
TensorGrip P302 is designed to be a versatile, safe and reliable adhesive. With superior strength, yet an eversoft bondline, it's the perfect match for foam, insulation, laminate and more.
Advantages:
Non-flammable
VOC free
Excellent high coverage
80% of final strength immediately
Full strength in 24 hours
Fast. High Tack.
Fast drying with long open time
Good heat resistance
Sizes Available: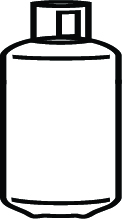 ---
Developed For:
Foam
Insulation
Standard Laminate
Properties:
Low V.O.C
ZERO-FLAM Technology
Web Spray
Back
Available In
Download Technical
Data Sheet ➞