TensorGrip - H20N - Non-Flam Duct Liner Adhesive
TENSORGRIP H20N is a high performance industrial spray adhesive formulated specifically to bond a wide variety of insulation inside and to the exterior of ductwork.
TENSORGRIP H20N is designed for rapid strength build-up and eliminating the concern of flammable adhesives in the workplace and on the jobsite. It has good moisture and weather resistance against high temperature exposure.
Excellent adhesion to many porous and non-porous surfaces
Pressure-sensitive
Also bonds difficult materials such as polyethylene film
Non-flammable – does not cause flash fires when used with welded pins
Sizes Available: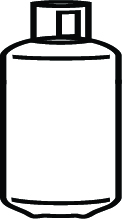 ---
Developed For:
Insulation
Properties:
Low V.O.C
Back
Available In