TensorGrip - A40N - Thin Fabric Spray Adhesive
TensorGrip A40N is a non-flammable spray contact adhesive formulated for bonding aircraft synthetic leather (i.e. ultra leather) and thin fabrics. Fine, consistent spray delivers a smooth, strong, impeccable bond to even the finest fabrics .
Advantages:
Fine consistent spray
Over 220°F (105°C) temperature resistant
Non-flammable
80% of final strength achieved immediately
OTC compliant
Full strength achieved in 24 hours
Fast drying with long open time
No ODS (Ozone Depleting Substances)
Qualifies for LEED®-NC & CI EQ Credit 4.4: laminating adhesives shall contain no urea formaldehyde resins.
Sizes Available: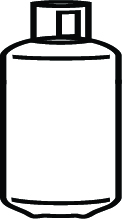 ---
Developed For:
Synthetic Leather
Thin Fabric
Properties:
Mist Spray
Back
Available In
Download Technical
Data Sheet ➞