TensorGrip - M80 - Marine High Temp Contact Adhesive
TensorGrip M80 sets the standard as a multi-purpose marine adhesive for interior boat outfitting. This high performance, high-temp spray contact adhesive is formulated for a variety of marine applications and even bonds with a variety of the highest-class materials used in high-end yachts.
It's advanced CO-REZ technology provides a "greater coverage less weight" formula for increased cost savings and our canister system reduces time spent on gluing and cleanup making M80 the cleaner, faster and smarter choice.
Excellent high coverage
80% of final strength achieved immediately
Full strength achieved in 24 hours
Fast drying with long open time
Excellent green strength
Over 220°F (105°C) temperature resistant
No ODS (Ozone Depleting Substances)
Qualifies for LEED®-NC & CI EQ Credit 4.4: laminating adhesives shall contain no urea formaldehyde resins
Sizes Available: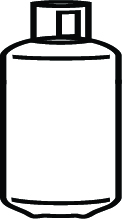 ---
Developed For:
Carpet
FRP Reefer Liners
Standard Laminate
Properties:
Web Spray
Back