TensorGrip - M30 - RTM/ Infusion Moulding Adhesive
TensorGrip M30 is simply designed to help you build better boats.
It's specifically formulated for vacuum infusion molding. This tried, tested and true adhesive becomes part of the cross-linked matrix when resin is infused. It makes for lighter, stronger parts and overcomes problems such as bonding failure, resin blockage and surface defects in the finished product.

Government is tightening environmental regulations on fiberglass molding, pushing towards a cleaner fiberglass molding process – vacuum infusion (also known as close-molded resin infusion).
Safely fuses laminating materials to structural core surfaces
Ultimately becomes part of the polymer matrix
Very fast application
Convenient, reliable, portable spray system
Provides superior holding during forming process
Allows resin to obtain maximum tensile strength
Will not interfere with the curing process of vinyl esters, polyesters or styrene resin
Sizes Available: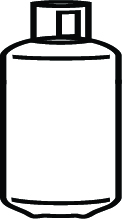 ---
Developed For:
Fiberglass Infusion
FRP/GRP
Properties:
Mist Spray
Back