Back
Tensor: Your Choice for Foam & Upholstery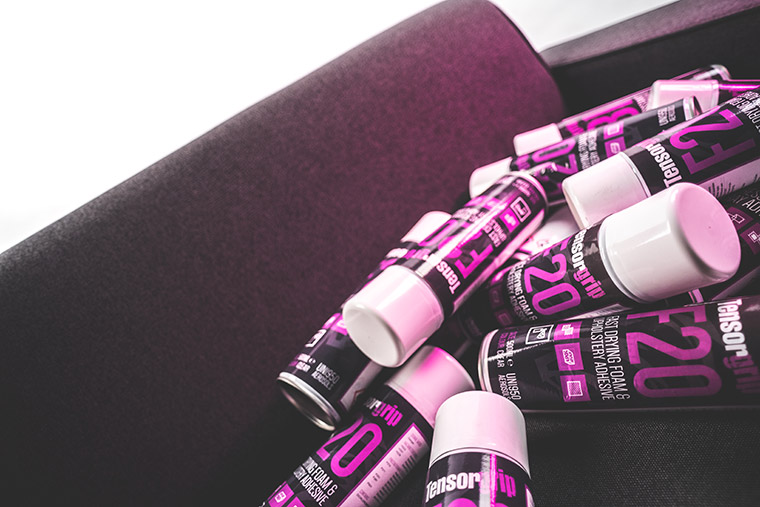 If you need a strong bonding solution for foam & upholstery, it's highly likely that your sector of nature will be high-tempo and high-demand. It's also likely that you won't have time to waste on cleaning up any mess caused by spills or leaking pumps. Fortunately, Tensor has pioneered research & development to engineer a range of adhesives that are specifically designed for your sector. Thank us later.
We know that our foam & upholstery customers have more to worry about than delays and the actual make=up of their adhesives. That's why we've streamlined your processes, boosting productivity and profitability with solutions that have been designed for foam & upholstery alone.
We also understand that many will be unsure of what solution to go for until they understand the full range of bonding options available to them. We're standing by the thousands of contractors we're proud to call customers by offering a fully consultative approach. This means helping our customers through each stage of the job at hand, from selecting an adhesive and setting it up through to completion.
Foam & Upholstery Made Easy
To make the selection of your adhesive for foam & upholstery as easy as possible, Tensor has included a range of aerosol, canister and intermediate labels in colour coding to highlight specific markets, with dedicated icons corresponding to various applications. When it comes to our adhesives for foam & upholstery, we've got 3 major applications to look out for: domestic furniture, office furniture and mattresses.
Domestic Furniture: If you need a bonding solution for domestic furniture, it's highly likely that you will be using large sheets of fabric and big blocks of foam. If this is the case, it really pays to have an aggressive single-sided adhesive by your side. With Tensor, you can make your applications easier and enjoy an unbeatable end product.
Office Furniture: Working with office furniture means working with a wide variety of substrates, and Tensor's got the advanced adhesive you need to get the bonding job done right. Boosted efficiency and reduced costs await.
Mattresses: When it comes to working with mattresses, we don't believe in compromising on quality. Our adhesives for mattresses guarantee unrivalled results with less mess.
Our foam & upholstery range doesn't end there. Tensor currently includes 13 superior-quality products within the range, each suited to different applications such as mattress & headboard manufacturing, foam conversion, flight cases, contract seating & domestic seating. Whatever the complexities of the job at hand, we've got your back with permanent and reliable bonds.
Discover the Best of Tensor's Foam & Upholstery Range
We've got the solution you need, and we recommend viewing our full foam & upholstery product page to get a more detailed overview of our products specifications. However, we've picked out some of our top sellers:
Tensor F10: A revolutionary, high performance plasticiser resistant adhesive, specially formulated to bond all commonly used substrates found within the foam and upholstery industry. The F10 will bond vinyl, rubber, leathers and plastics, which in the past this was not possible because of the leeching plasticisers migrating from the vinyls causing delamination.
TensorGrip F40: A highly aggressive adhesive for all demanding foam, fabric, upholstery and carpet applications. F40 is a non-chlorinated, high solids, synthetic rubber spray grade, multi-purpose adhesive in canisters. This adhesive is designed for versatility with a long open time and high tack level with excellent strength for bonding a wide variety of substrates including foam, fabrics, upholstery, plywood, MDF and many others.
TensorGrip F20: TensorGrip® F20 has been developed to provide very fast tack times for all upholstery, foam and carpet contact bonding situations. Its high solids and pressure sensitive adhesive technology make this product highly suited for all types of production processes. The F20 is designed to give a long open time and high tack level with good strength for general bond applications.

Adhesives for Foam & Upholstery: Bond with Tensor
Regardless of the bonding job you're doing within the foam & upholstery space, we've got the adhesive solution you need. To find out more about our foam & upholstery range, visit a full resource which includes a comprehensive product matrix. You can also get in touch with any specific product questions - just contact us!