Back
Get Started with Tensor's Kick-Off Kits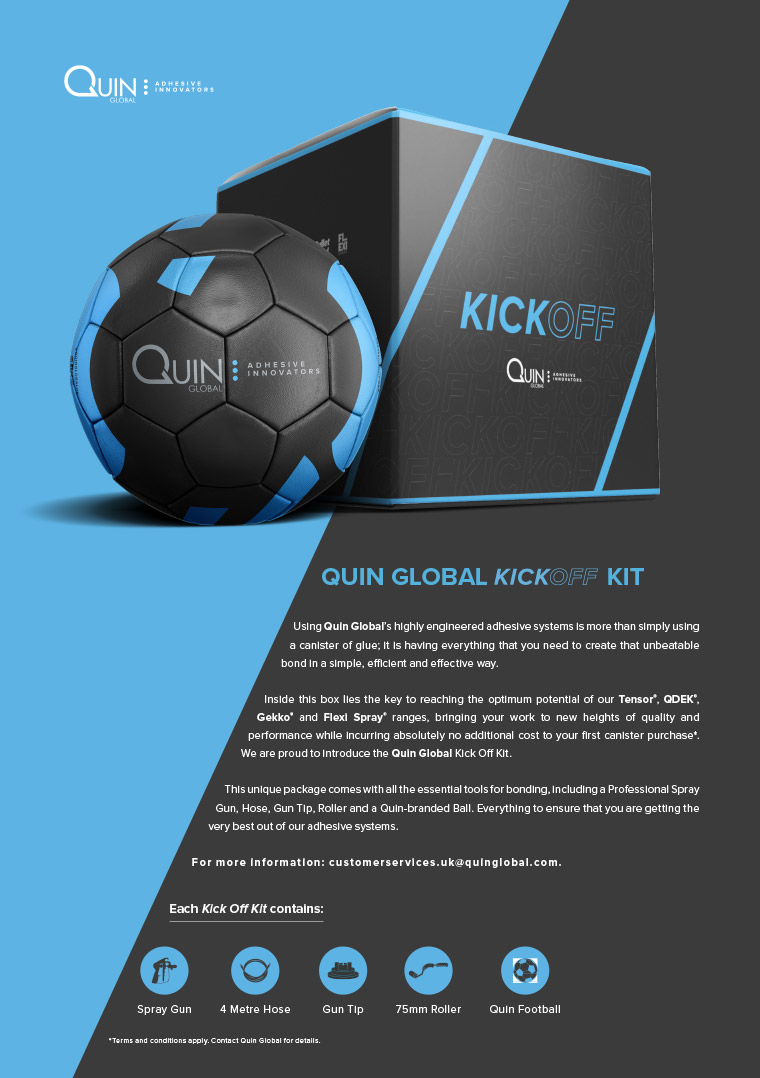 Regardless of the bonding job you're doing, you'll need convenience, ease-of-access and sticking power. Tensor has driven positive change for our customers with an innovative canister-based system that promises to tackle many of the issues contractors face when doing this kind of work. This week, we're looking at Tensor's Kick-Off Kits, containing everything you need to get started.
We've driven research and innovation to make lives easier with our revolutionary canister system. However, using our adhesives is about more than using a forward-thinking application method. It's about having everything you need to create a super-strong bond in as simple and convenient a fashion as possible.
We're pledging to get our customers started with our awesome Kick-Off Kits. When it comes to successful bonding jobs, we've got all the core components you need to do the job quickly, safely and properly…
Kick-Off with Tensor
It's not a mystery box. It's the key to reaching the ultimate potential of your adhesives solution. This little kit contains everything you need to bring your work to new and unprecedented levels of quality and efficiency at no extra cost. You'll get one of Tensor's Kick-Off Kits with your first canister purchase. No need to thank us…
So - what will your Kick-Off Kit contain inside? This unique package comes with all the tools you need for bonding:
• A professional spray gun
• Gun tip
• 4 metre hose
• 75mm Roller TensorGrip
• A branded football courtesy of Quin Global
No matter the bonding job, we've got the Kick-Off Kit you need to get the very best out of our Tensor adhesive systems. Options are currently available in:
• Co-Rez
• Web Spray
• Mist Spray
• HT – Spray
To get your FREE Kick-Off Kit from Tensor, please add an adhesives product to your basket and check out with a TensorGrip canister in 22L. Please note that Kick-Off Kits are available for new customers only and Quin Global may check with yourself or your company to confirm. Please also note that depending on the actual adhesive product you're using, do contact us to ensure you get the correct gun Nozzle appropriate to the adhesive chosen.

Contact Us to Kick-Off
Regardless of the bonding job you're doing, we've got the adhesive solution and corresponding Kick-Off Kit you need. Just get in touch with any questions - we're happy to help.