Back
Glencraft Case Study - Foam and upholstery
Glencraft Case Study
When we think of mattresses, the first thing that comes to mind is sleep! That first cosy feeling when you put your head on your pillow and drift off into the land of dreams. Glencraft like the mattresses they produce have many layers to them. They are not only a manufacturer of luxury mattresses since 1843 but are also a social enterprise and registered charity. Glencraft originated from the Aberdeen Asylum for the Blind which was initially set up to provide employment and training for disabled people in Aberdeen and Aberdeenshire. They have grown and changed over the years to what they are today. Making luxury mattresses for clients throughout the world. They are also a holder of the prestigious Royal Warrant by appointment to her Majesty The Queen.

Gordon Farman from Glencraft and his staff were looking for a solution to a problem they had with the glueing of the ingredients in their mattresses. "We had a glue room and were using a glue that required it to dry overnight. If we had any mattresses that were required in a rush or a client that wanted something specific or a change made, then we couldn't do anything that day." Gordon says.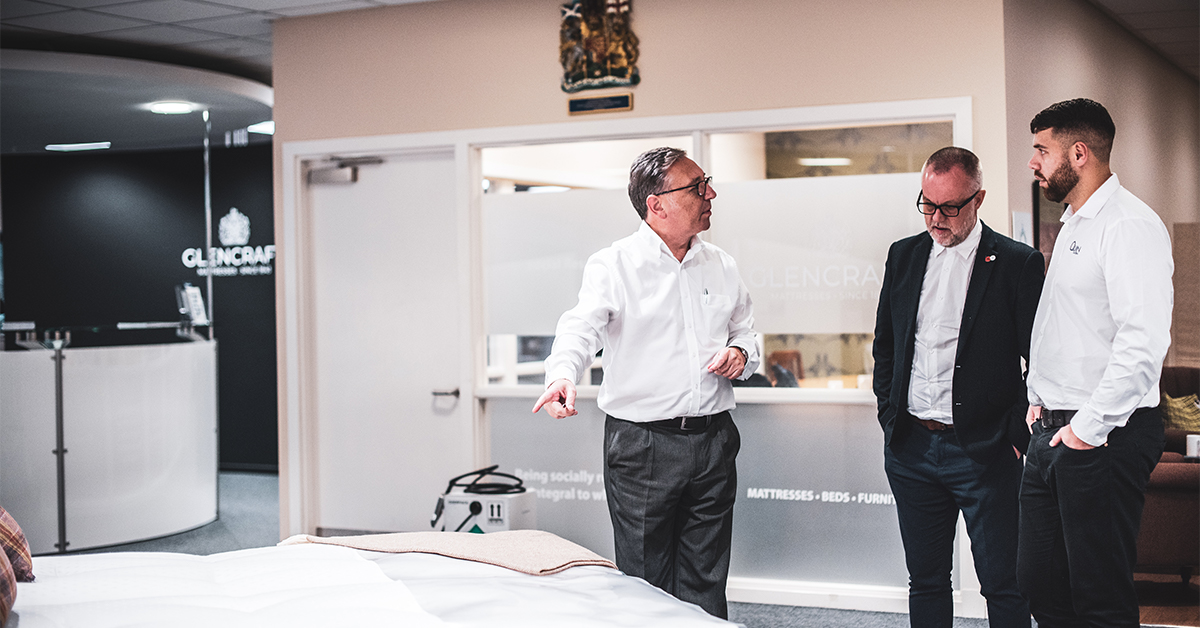 Gordon got in touch with PSA Solutions, a distributor of Quin Global UK who is a manufacturer of adhesives. "Right from the start, the guys were great, and we spoke about what I was trying to do. The guys came and visited us and looked at what our requirements were and gave a demonstration to the staff. Right away, the staff loved it as it dries almost immediately, so we saved a lot of time. It is also more mobile as we have the 22-litre canisters, which means we can use them in different parts of the factory instead of the restrictive glue room we had." Says Gordon.

Glencraft is a business that strives to create a better, fairer place to work for those who have overcome an incredible personal challenge. As a social enterprise, the sale of every mattress makes a positive impact on the lives of all Glencraft employees. Therefore, the introduction of a new adhesive that saved the employees time had them all on board.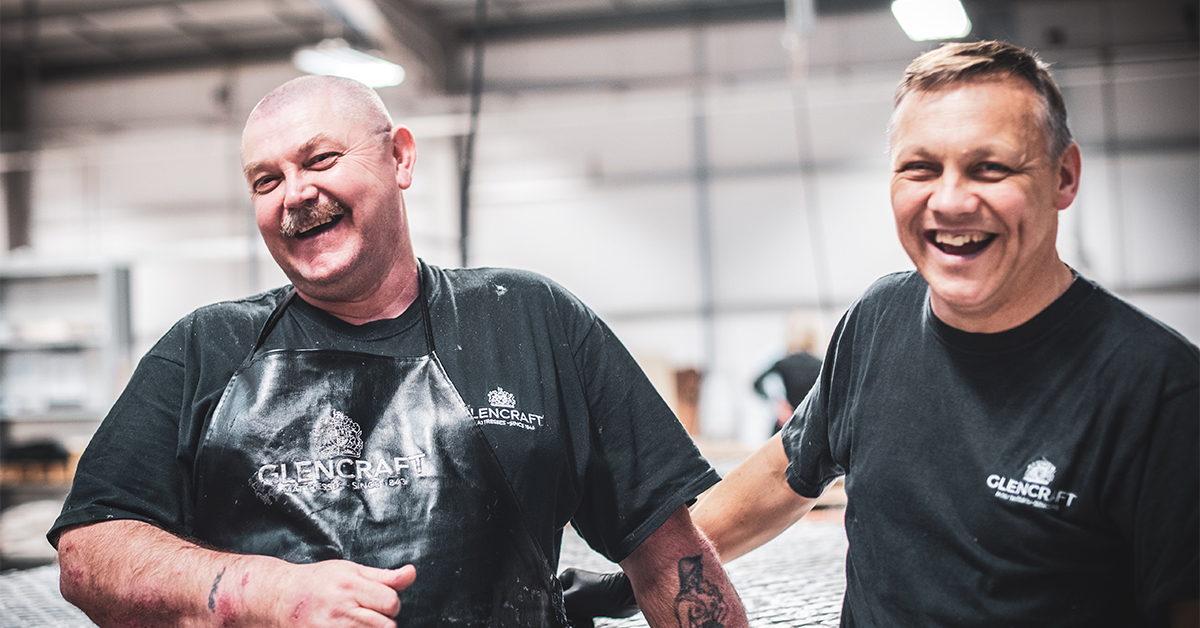 "The new adhesive is good, a fair difference than the old way of doing things. It's a lot easier to use." Says Mark, who used to be one of the drivers delivering the mattresses. He has been working in manufacturing for the last 3 to 4 months and making mattresses is his favourite thing to do.

"The adhesive is a lot better than using the tin. It's great not consistently having to look for a can. The glue is a lot better than what we were using and sticks a lot faster." Scott says. He loves his job and does a mixture of everything, such as making up the whole beds and doing the mattresses. "It's a good laugh with the guys."

Glencraft found Matt from PSA Solutions and Gregg from Quin Global UK helpful from the start in coming up with a solution for them. There was such a wide range of products that Gordon didn't know which one would be best for the company. Matt and Gregg recommended one particular product and came up and demonstrated it to the staff. As the staff were all involved in the demonstration, the employees loved it.
"Glencraft made contact through our internet site, and where getting fed up with purchasing aerosols, which was slowing the production facility down. They were also looking for a healthy option. I showed them the concept of the canister adhesives and the benefits it would bring to Glencraft. Gregg then visited on our behalf, demonstrating the F35N product, and they are now settled and ordering this product regularly." Says Matt.

Working with PSA Solutions and Quin Global UK, Glencraft has found the right product that answers all their problems. "Using the large canister and the nozzle you can direct the adhesive to the exact place you want it. Which means you use less than we would of previously and it does do what it says on the tin, it does stick. We have found the adhesive perfect for what we need." Says Gordon.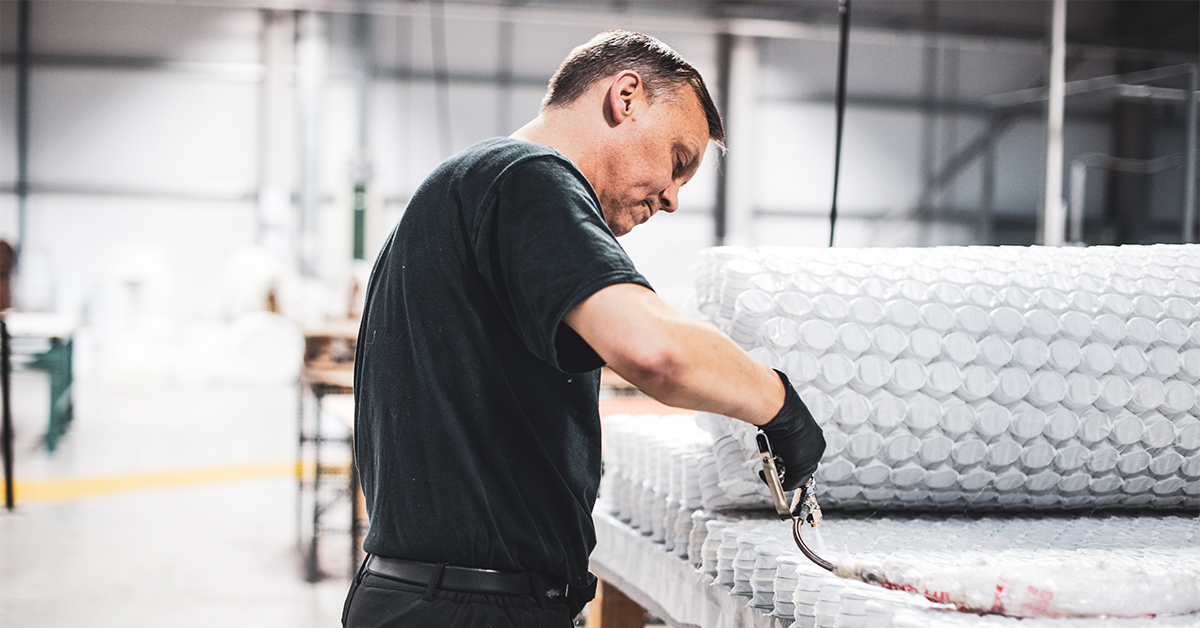 Going from having to wait for their mattresses to dry overnight to been able to work with them in a few minutes has made a massive impact on Glencraft and the production of their mattresses. Now their production facility has saved themselves vast amounts of time, who knows what is in store for them in the future.

To find out more about Glencraft, why not go to their website here - https://glencraft.luxury/. If you are interested in the adhesives, have a look at Quin Global UK website here - https://www.quinglobal.com/ or get in touch with PSA Solutions here - https://www.psasolutions.uk.com/.
Follow our Social Channels here -