Back
Symphony Coatings appointed as distributor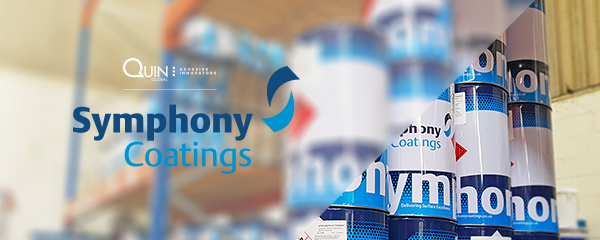 Symphony Coatings appointed as distributor for Quin Global UK TensorGrip Low VOC Joinery Adhesives Range for the UK.
Quin Global is delighted to announce Symphony Coatings has been appointed as a distributor in the UK and Ireland for our TensorGrip Joinery range of spray adhesives.

Symphony Coatings will be supplying Tensorgrip joinery range products with a particular focus on providing the market with a low VOC option. They will also be taking the Marine range, specifically M81 due to requiring the IMO certificate.
Symphony Coatings have a vast range of customers spraying wood and industrial coatings and are a one-stop-shop for all paints, lacquers and consumables such as varnishes and glues.

Symphony Coatings offer the broadest range of wood finishes, protective coatings and spray shop supplies from the world's leading manufacturers. All of which have been tested and approved by their experts who have decades of experience in spray paint application and coatings technology.

Gregg Rhodes, Sales Manager at Quin Global UK, said "Quin Global is delighted to be partnering with Symphony Coatings. With such an engaged and energised leadership team with the drive to provide the market with the best products and solutions, the partnership is bound to be a success."

This relationship is beneficial to both companies, as Symphony Coatings are provided with high-end products and in-depth training. Quin also works with their partners to develop innovative products on solutions for their customers. Quin support Symphony Coatings across the UK and are working closely with their technical sales reps.

James Nuttall, from Symphony Coatings, said "I am very excited in developing our relationship with Quin Global. It is clear from the onset Quin and Symphony share the same values, and their product portfolio complements our offering from the world's largest and innovative paint companies. We are very pleased with the relationship we have so far with Quin and look forward to it growing over the coming years."

Symphony Coatings are the UK's premier supplier of professional coatings, lacquers and paint for spray shops, all supported by brand leading capital equipment, innovative consumables and full-colour matching. They specialise in providing the highest quality and most cost-effective solutions for all coating needs backed by full technical support. As an independent company, they are not restricted to selling a limited range of products to suit them; this gives its customers a choice from the world's best manufacturers.

Quin Global recognises the importance of speedy production. That's why they have developed a unique pre-pressurised adhesive system, engineered to give an end-to-end solution. If you are interested in finding out more about their products, then have a look at their website or follow them on their social media channels. They also have a very comprehensive list of videos on their YouTube channel, which are also worth a watch.
Notes to Editors

About TensorGrip
Tensor Global is a brand of adhesives and tool systems, each made with you in mind.
The secret to our success is you, the customer. When you browse our site, we aim to provide you with everything you need and exceed your expectations of industrial adhesives and tools.
With manufacturing and distribution hubs in three locations across the globe, we service any customer requirement from almost anywhere in the world. Glues and adhesive tools aren't border-specific, which is why we strive to provide the finest service whether you're in the UK, Australia, the USA or other regions throughout the globe.

About Quin Global
Quin Global is a global manufacturer of adhesive and tool systems. With our customer's needs in mind, we manufacture and distribute our innovative products and formulations from three strategic locations across the globe – Perth, UK; Omaha, USA and Canberra, Australia. Our products are sold globally through a network of almost 100 national and independent distributors.

At Quin Global, we take pride in our work. That's why our entire process is completed in-house and on-site, from initial concept to the adhesive landing on a distributor's shelf. This ensures we can give customers our seal of approval on every product.

We believe that our strong, global network provides peace of mind to our customers. Whatever their location, they will receive a high-quality product with the best customer service in the industry.

Contacts
E-mail - sales.uk@quinglobal.com
Telephone – 0845 381 2233
Website - http://www.tensorglobal.com/
Follow us on our social channels