Back
Bianca's experiences at W18

Experiencing the process of a tradeshow for the first time can be an emotional roll-coaster. You are seeing your ideas come to life on the paper plans, worrying over the logistics and whether your items will arrive on time and the final pinnacle of seeing all your ideas finally come to life when you attend the show. Bianca our new Graphic Designer experienced all these emotions and more when working on the 2018 project for our stand for the W18 trade-show, interested to find out how she got on? Have a look at her recollections below.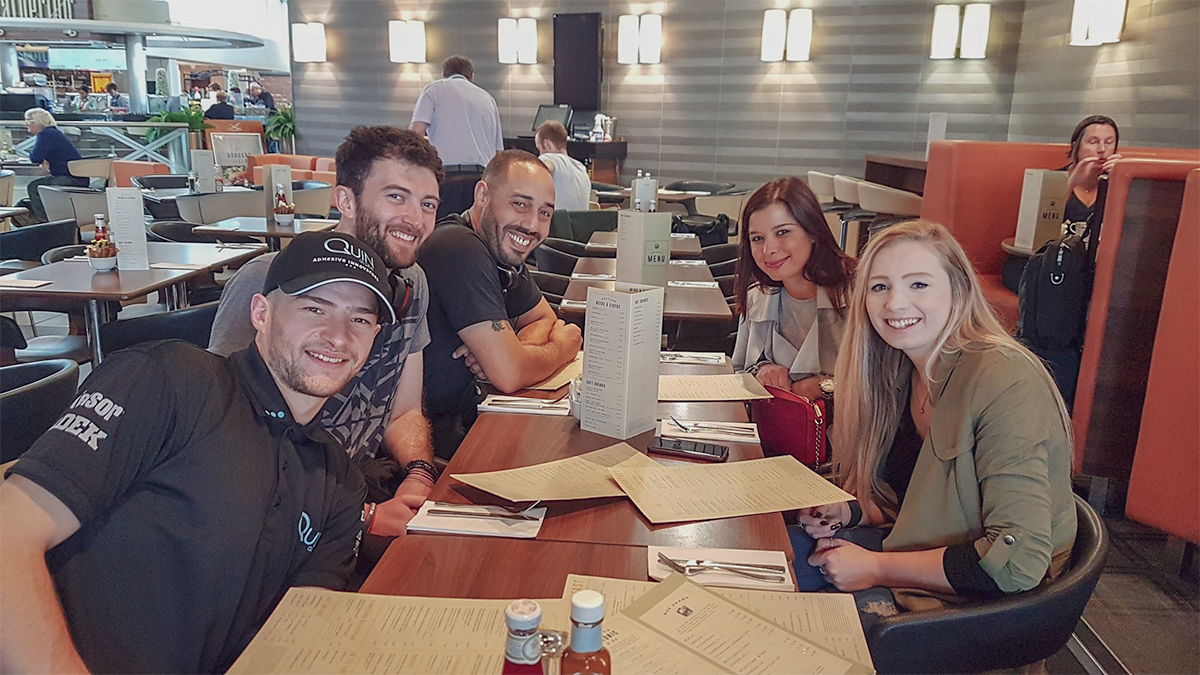 Having never been on plane by myself before or a work trip, W18 was an exciting but slightly scary experience for me. When facing new experiences, the feelings are always the same that exciting but apprehensive emotion that wells in the pit of your stomach. The first part of this adventure was the plane, it was one of the smallest planes I have ever been on and it felt like the aisle was no bigger than my body width. After settling down in my seat, the plane felt like it went down when the world strongest man Eddie Hall got on as it turns out he was travelling with us on the plane! The journey its-self was very short at only 50 minutes, so we got into Birmingham in no time at all. We arrived at the NEC just after lunchtime raring to get the stand set up alongside Merit Display.
First day experiences!
The next day, filled with excitement, nerves and a very full stomach (after the biggest breakfast) I set off to the show with the team. We did some last minute set up checks and then the show was announced open. Hands filled with our famous Tensor Charge I took to the walk ways and started speaking to passers-by. I have to admit it did take a while to pluck up the courage to speak to the first person, however, I quickly got into the groove and had a lot of fun with it. During the day I also ate what felt like my body weight in the best popcorn from Blum who had a very cool cinema themed stand. On our stand we were also joined by Pete from SIS Hopkins and Mark and Andy from The Glue People distributors. It was nice to see how the distribution side works as well as meeting the company's we work alongside such as CDUK, who had a great stand at the show.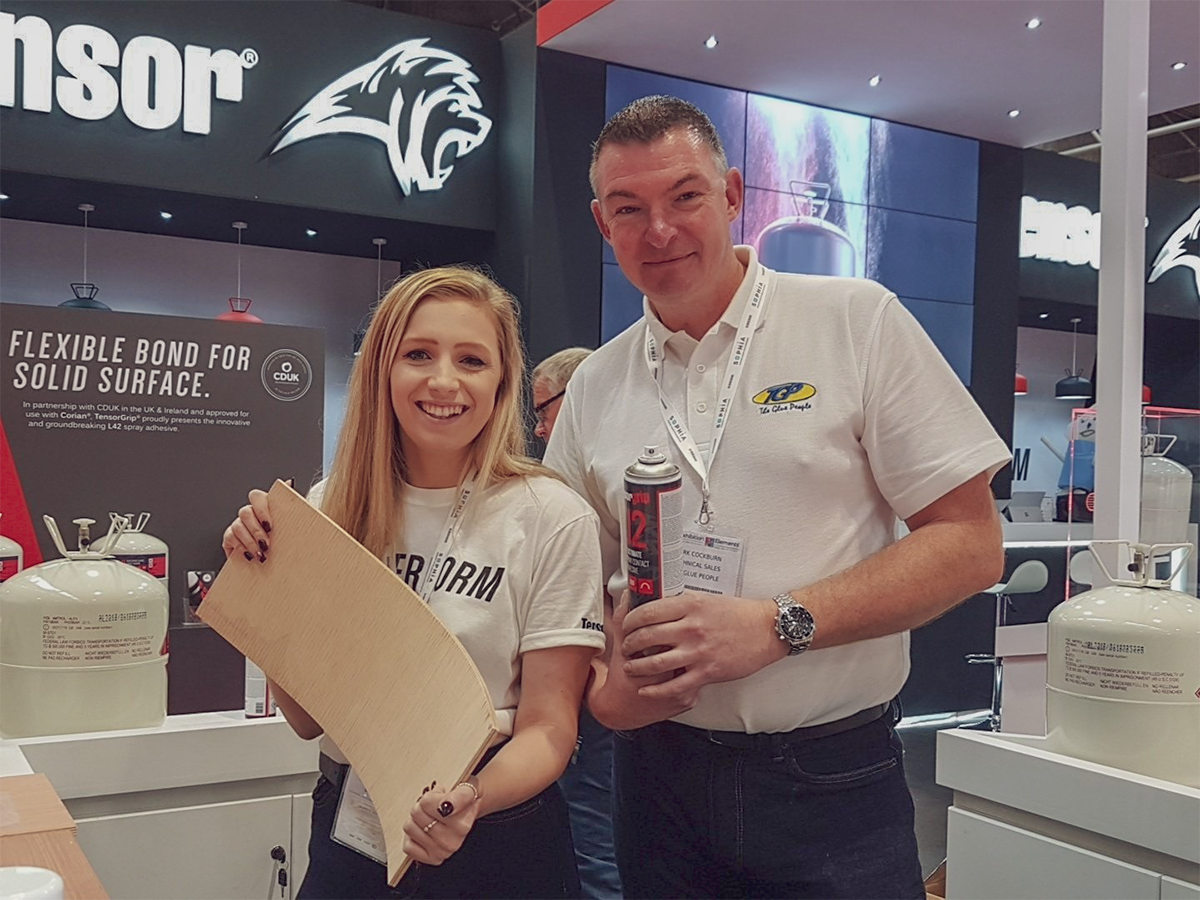 Getting into the Groove!
After a busy first day we all headed back to the hotel to treat ourselves to a well-deserved dinner. Having never been away on a work trip and only being at Quin for about four months I was a little nervous, however, I shouldn't have worried as I've never felt more at home. The next few days started the same, but each day something different and exciting happened that made it unlike the day before. I also got involved in doing some demonstrations, however, I feel I probably need a bit more practice at the L12 challenge!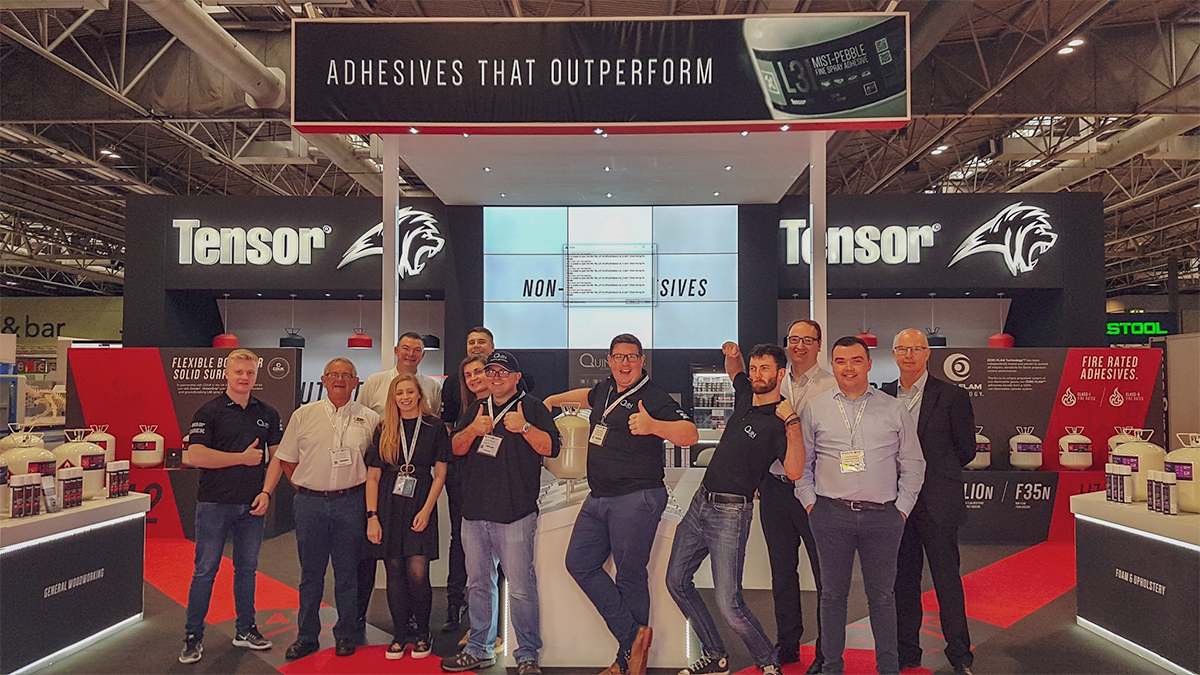 Having been part of the whole design process it was great to see parts of the stand I had helped design. I also received great feedback about the new joinery brochure I had created which was a nice confidence boost. The stand was incredible, and the hard work the team had put in was seen in the fantastic final results of the finished stand. It has definitely inspired me to want to be a part of the next trade show stand design process.
Last day!
On the last day my body was feeling it, I think every limb was sleepy (if that's even possible), however, we all got each other through the day with a lot of laughs, some air tennis and Tensor charge. I got an extra special souvenir from the stand next to us Masterwood, who did a Z-map 3D portrait of myself. Although I'm now not sure where I'm going to put the portrait of myself when it arrives back! As we were packing up to go home I was sad it was all over, though a part of me was very happy to get back to my comfy office chair.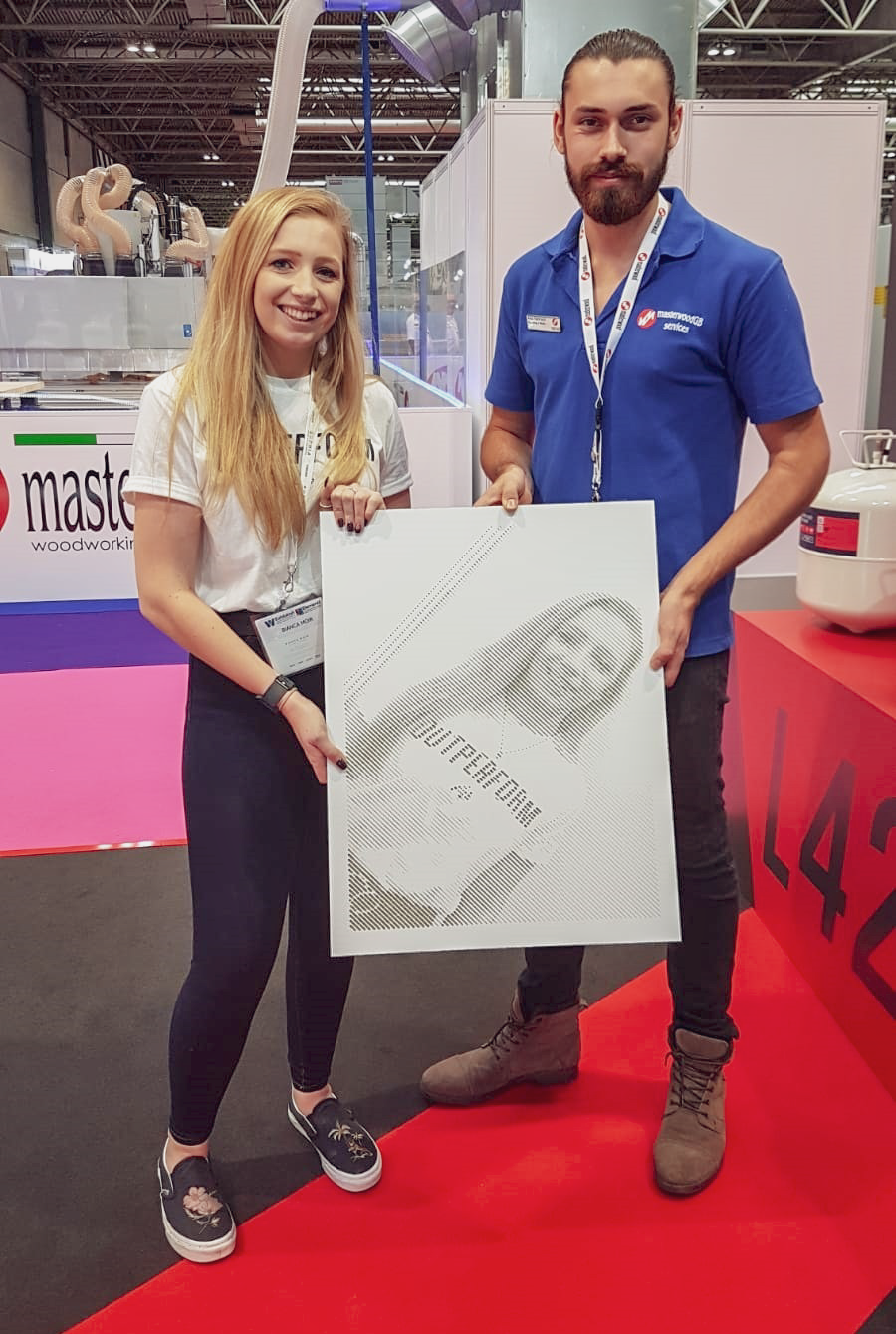 Final Thoughts
Overall, it was one of the best experiences I have had at Quin so far. I learnt so much in the space of four days and turns out I knew more about our adhesive ranges than what I thought. Currently I am working my way through my notepad which is crammed full of creative ideas I got from the show. Watch this space for some cool and potentially wacky designs coming your way soon! I was grateful I was able to come to W18 and can't wait for the next exhibition, but for now I'm happily sat resting at my desk making pretty pictures.